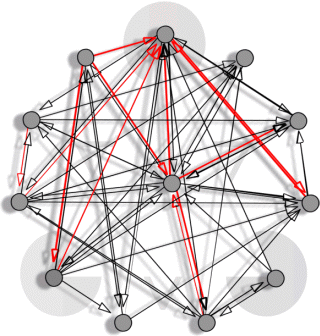 Once it was thought to be proportional to the size of the genome. Then, we found that most of the genome of some organisms was apparently doing nothing since it did not code any proteins, so it was postulated that organismal complexity was proportional to the number of genes. Thus, it came as shock that we humans, of all organisms, had a relatively modest number of genes with respect to our intuitive notion of complexity.
Nowadays people talk of the regulatory interactions between genes as the true key to organismal complexity. According to this view, intricate regulation and not sheer number of proteins should reflect the complexity of an organism.
A relatively new player in this mind-game is miRNA. Strong evidence suggests that microRNAs are effectors of an intricate, fine-tuned regulatory network that acts combinatorially on mRNA transcripts. And, according to some estimates, more than half of the coding genes of vertebrates have their expression modulated by microRNAs.
An excellent introduction to this topic can be found
here
.